News — art prize finalist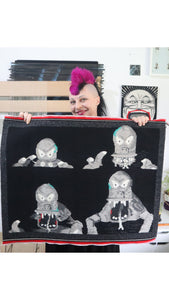 'Road Trip: The Murray Bridge Bunyip'After about 140 hours of weaving (and a few more hours of finishing the hem to go) - here she is in all her glory!This tapestry will be included in my Summer Solstice collection that will be released in December, but please DM me (or share with someone who you think may want her!) if you are interested in giving Bertha a new home :D
---
I'm experimenting with smaller tapestries in the 'Road Trip' series, and although Luna Park in Melbourne is not * technically * one of the 'Big Things', I am fascinated by how creepy he is.And yeah, I definitely have to do the changing faces of the Sydney one too !This is one of those tapestries that are not making sense right now, but I'm sure it will all pull together soon!!
---
Are you lucky?I personally believe that you are what you say you are.So if you say 'I'm never lucky', you're right.If you say 'I'm so lucky', you're right.You get to choose.How you see yourself plays out in your life.I created these works as a talisman, sigil, reminder … you are who you say you are.I see so many people using negative words to be 'cool' - it's not cool to use positive words ;)I don't care - even if it's cheesy and uncool, here I am. Spreading good energy and vibes!This piece (and others) are available in my TEXTural exhibition...
---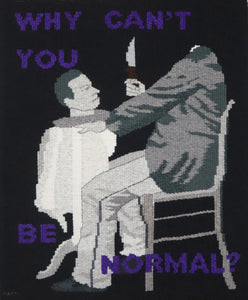 I am so honoured to be a finalist in the Gallery M Open Contemporary Art Prize 2022 with my tapestry 'Theatre Of The Grotesque No. 6: Parental Wishes' The finalist exhibition will take place as part of SALA from 5 - 28 August at Gallery M, 287 Diagonal Road, Oaklands Park (next to Marion Shopping Centre) I'm looking forward to seeing the rest of the finalists' work!