News — hand woven tapestry
S U M M E R   S O L S T I C E   C O L L E C T I O N   2 0 2 3I've decided to work towards releasing a collection of works every 6 months, instead of adding pieces to my website as soon as they have been completed.Sign up to my mailing list HERE so I can tell you first!There will be a discount for all new works for a limited period of time, so you don't want to miss out!
---
I hope you enjoy the progress of my latest finished tapestry!
---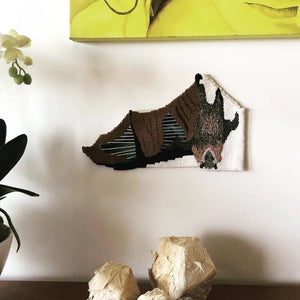 So nice to see an install shot, thanks so much Carolyn!So this little bat was one of 2 that I made - it was supposed to be part of a larger project.But I found that I'm not keen on making shaped tapestries … so they just hung around my studio (literally, haha!)So nice that this one now has a new home, with someone who appreciates her :D
---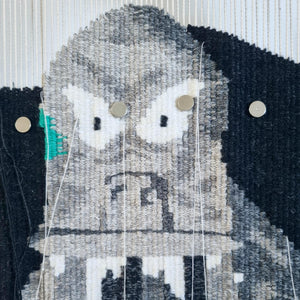 Well, hello there Bertha! It's been a while since I've worked on this tapestry … winter is a busy time, with Bowerbird, restocking my suppliers, and generally being a great time of year for lovely scarves! :D But now I'm back to balancing my tapestry with my handweaving, and this long weekend has been all about swapping between them, as well as some candle making! In fact, the theme of June for me is BALANCE … how about you, are you good at balance?
---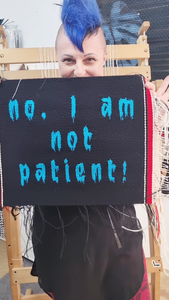 I made this work because many people assume I must be patient to be able to work in very slow mediums like tapestry and handweaving.No, I am not patient!I am actually a very highly-strung, 'Energiser Bunny' kind of person, some say 'pocket rocket', I don't sit still, I don't relax, and I never stop creating. I'm completely obsessed. And I realise that saying all of this out loud makes me sound kinda crazy. But that's just the way I am.I find a way to work on my creativity every single day, even when working full time, because I feel super...