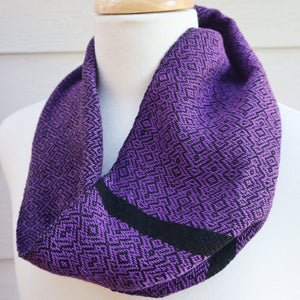 So what is a weaver's favourite scarf?I have to confess, while I love a classic double-wrapped scarf, my go-tos are usually my Cravats!I love to wear a Cravat under a jacket - it gives a pop of colour under a black coat, and also looks great with a jumper or shirt.My favourite at the moment is the Liquorice Allsort cravat, although this Purple one is also totally delicious. I think I need to make myself one, to be honest :D
---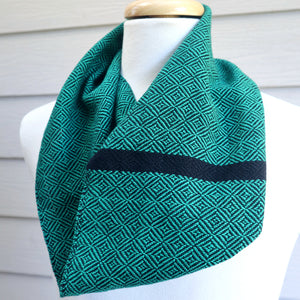 The most popular ones this year have been Emerald (pictured), Sage, Purple and Dusty Pink ... oh, and the Liquorice Allsorts!More of them are coming - I'm weaving like crazy to restock the shop - if your fave is sold out, please message me!You can also head over to my Made To Order listings - you can find them in Classic, Luxe, Dapper and Cravat!
---
The Liquorice Allsorts are here!!! I'm super excited about these - they are so fun to make, and I confess I made myself a Cravat version in my favourite cool colours ;)I will be bringing them to the Bowerbird Market … unless they sell earlier! There are a couple of long scarves in different colourways to choose from, and one Cravat.What do you think? Do you prefer multi-coloured, or are you more of a single-colour fan?  
---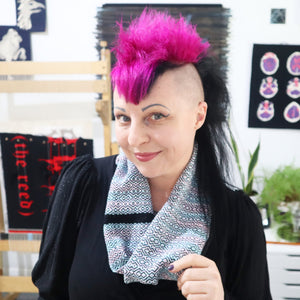 No one would take fashion advice from me!  LOL!I make delicious handwoven accessories, but I do not profess to know ANYTHING about fashion :DAnd does that matter? I hope that you are here because you have your own style, and love the colours that I have chosen for my range - and you choose what you love because you love it, not because they are fashionable *I've always dressed the way I wanted to. When I was in high school, I was bullied for being 'the weird kid', and my parents and school counsellor (a shitty one) used to say...
---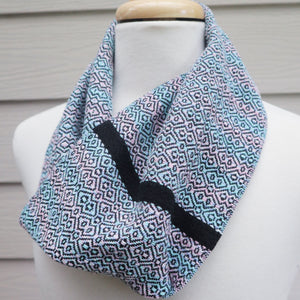 Cravat vs Classic vs LuxeWhat is the difference?Cravat = this is a shorter length infinity scarf, sewn with a twist - I called it a 'Cravat' because it looks so cool sitting under a jacket. Just throw it on and go, perfect for wearing most of the year ;)Classic = my best selling double length scarf - sewn into a loop, you can wear it long, or loop over twice.Luxe = extra fine and drapey double length scarf - sewn into a loop, but using cotton that is twice as fine as the classic. Lighter to wear, so perfect as...