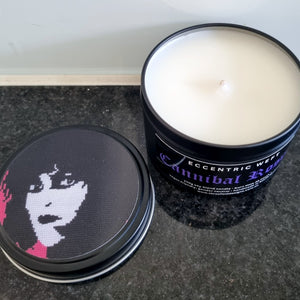 S O Y C A N D L E S !Well, here they all are!They are mostly gender-neutral fragrances - think tobacco, hay, leather, patchouli, sandalwood, oud, nag champa incense, clove, wood smoke :)I just realised I never officially told you they were now on my website, but I thank those who have already ordered!!I'm looking forward to hearing your feedback!So yes, check them out HERE!
---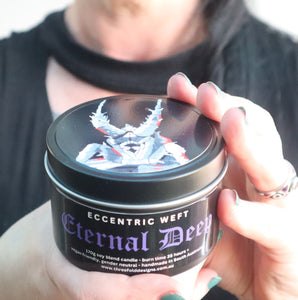 E C C E N T R I C    W E F T I have a little surprise for you, my friends …I am adding gender-neutral soy candles to my range under the name 'Eccentric Weft'!You can find them HERE!I started making candles in February because I was spending too much money on them myself, and it's hard to find candles that aren't flowers, fruit, coconut or vanilla ;)Both my partner, Anita, and I put our heads (and noses!) together and came up with a range of 6 candles, and together with our friend Tam, we named them after goth...
---
S U M M E R   S O L S T I C E   C O L L E C T I O N   2 0 2 3I've decided to work towards releasing a collection of works every 6 months, instead of adding pieces to my website as soon as they have been completed.Sign up to my mailing list HERE so I can tell you first!There will be a discount for all new works for a limited period of time, so you don't want to miss out!
---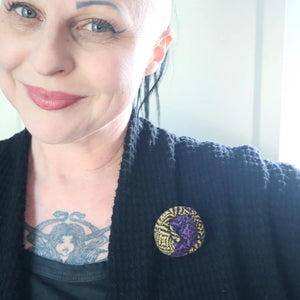 OMG, check out my new brooch by Anne Grigoriadis!Anne is an amazing artist at Collective Haunt, but she also makes beautiful jewellery. I have been giving her my leftover handwoven fabric, and she has been making them into brooches!She gave me this one, and I AM IN LOVE! :DShe will be selling them as part of the 3 Artists group at Bowerbird from 17 - 19 November. You can also find the work of Carolyn and Maggie - a trio of genius! :)Please go and follow Anne, and let me know if you are visiting Bowerbird - it will be...
---
The word 'tapestry' gets misused a LOTTapestry is hand woven, and made on a loom - it's a fabric made from scratch.If you are stitching on top of another fabric, it is needlepoint, not tapestry.Lately I have seen younger people use term tapestry for crochet and quilting - WTF????I did a whole YouTube video about tapestry vs needlepoint - you can find it HERE :)