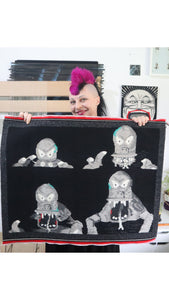 'Road Trip: The Murray Bridge Bunyip'After about 140 hours of weaving (and a few more hours of finishing the hem to go) - here she is in all her glory!This tapestry will be included in my Summer Solstice collection that will be released in December, but please DM me (or share with someone who you think may want her!) if you are interested in giving Bertha a new home :D
---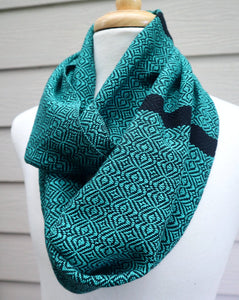 OK, I have a confession …I was all set for finishing a commission for a beautiful soul on Sunday.But weaving is not always straightforward.I made ONE error while dressing the loom.Hours later, I still hadn't noticed.Until - HALF WAY THROUGH THE SCARF! - I thought 'hmmm, that doesn't look right'.There was nothing else to do … I cut it off the loom and STARTED AGAIN!It really has to be PERFECT before it gets delivered to YOU ;)You can find all my delicious handwovens here on my website :D
---
I hope you enjoy the progress of my latest finished tapestry!
---
Perfectionism, part 3OK, I feel I have more to say about perfectionism, haha!I think that in today's society 'perfectionism' is touted as a good thing, but it can actually be quite crippling. Saying that, sometimes (like in handweaving) it is used in a positive way, but perfectionism isn't necessary - or helpful! - all the time.I often wish I could be a 'done is better than perfect' sort of person - I'm trying to re-train my brain, and have had a bit of success in some parts of my life.Perfectionism manifests differently, depending on how your brain works. From a...
---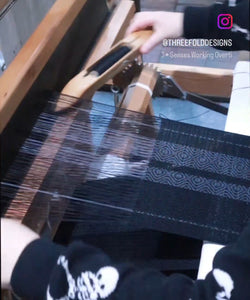 Perfectionism, part 2 …In my last video, I was talking about perfectionism, and how tapestry weaving is a perfectionist's nightmare.Well, in contrast, handweaving demands perfectionism!If the loom is warped up incorrectly, even if you miss one single thread … the whole pattern will be thrown out, and fixing it takes nearly as long as warping up the whole loom all over again :OWhen actually weaving, one pass in the wrong shaft combination will also result in the pattern being incorrect, so it needs to be unpulled and corrected.Handweaving is very mathematical, logical, and process-driven.Which is why I love it!Maybe that's...