News — ashford tapestry loom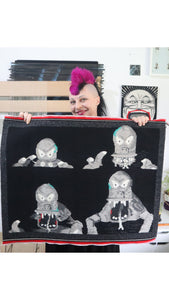 'Road Trip: The Murray Bridge Bunyip'After about 140 hours of weaving (and a few more hours of finishing the hem to go) - here she is in all her glory!This tapestry will be included in my Summer Solstice collection that will be released in December, but please DM me (or share with someone who you think may want her!) if you are interested in giving Bertha a new home :D
---
OK, the second Bunyip is nearly there … just weaving those eyes!It's been so fun working on this one again, but I just remembered how challenging it is ...Luckily, I have a lot of lovely black background to weave too, which is so so fun :D
---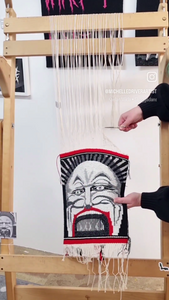 Woohoo, excited to have cut this one off the loom!That same day, I warped up my loom for the next one ... stay tuned!
---
I'm experimenting with smaller tapestries in the 'Road Trip' series, and although Luna Park in Melbourne is not * technically * one of the 'Big Things', I am fascinated by how creepy he is.And yeah, I definitely have to do the changing faces of the Sydney one too !This is one of those tapestries that are not making sense right now, but I'm sure it will all pull together soon!!
---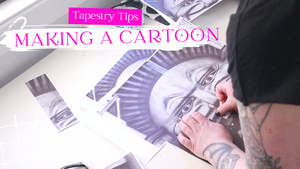 I have been requested to make this video about how I prepare my cartoons for tapestry weaving. You asked, I delivered! Though I will warn you, I couldn't stop talking, and it ended up being longer than I planned, haha! I know I keep saying this, but it's really important - I'm just giving you TIPS - I'm definitely not saying I'm 100% right. Experiment, and see what works for you!