News — luna park melbourne
I hope you enjoy the progress of my latest finished tapestry!
---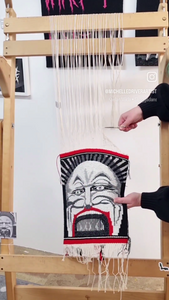 Woohoo, excited to have cut this one off the loom!That same day, I warped up my loom for the next one ... stay tuned!
---
I'm experimenting with smaller tapestries in the 'Road Trip' series, and although Luna Park in Melbourne is not * technically * one of the 'Big Things', I am fascinated by how creepy he is.And yeah, I definitely have to do the changing faces of the Sydney one too !This is one of those tapestries that are not making sense right now, but I'm sure it will all pull together soon!!