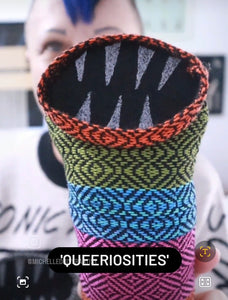 Next in line for 'this idea is either dumb or genius': I present to you: "Queeriosities" 🌈!OK, so I had this fabric that I had woven, and I wanted to have another go making a sculpture, after the lols of the giant scrunchie ;)So what the hell are they? They are representations of me! Queer, weird, neurodiverse, misfit, flamboyant, and pretty silly. But they are also you! Each piece stands tall like a totem pole, representing the strength and resilience of the LGBTQ+ community, allies, and all my fellow weirdos and misfits 🗿🌈Now I just have to figure out how...
---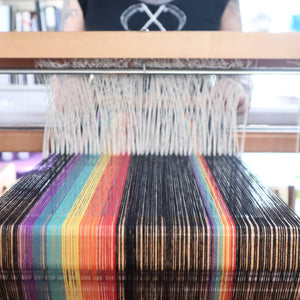 I couldn't resist! :D Usually my warps are just black … but this one deserved its own photo!Trust me, it's just as delicious after weaving too.  You can find the finished product HERE!
---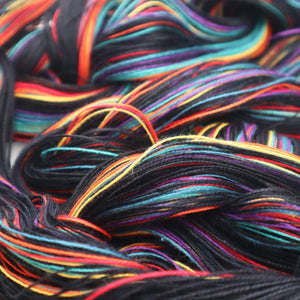 Next up on the loom!I haven't made these scarves for quite a while, so now is the time to restock!I have tweaked the design a bit, and after Bowerbird I will add to the LGBTQIA+ range :DYou can find all my delicious scarves in stock HERE on my website - or come and visit me at the Bowerbird Design Market from 5-7 May at Wayville Showgrounds!