Perfectionism, part 3OK, I feel I have more to say about perfectionism, haha!I think that in today's society 'perfectionism' is touted as a good thing, but it can actually be quite crippling. Saying that, sometimes (like in handweaving) it is used in a positive way, but perfectionism isn't necessary - or helpful! - all the time.I often wish I could be a 'done is better than perfect' sort of person - I'm trying to re-train my brain, and have had a bit of success in some parts of my life.Perfectionism manifests differently, depending on how your brain works. From a...
---
I was listening to a podcast about perfectionism the other day.Yes, I am totally a perfectionist … though it's probably part of my neurodiversity, but I am very well aware that I have obsessive tendencies, and need everything to be 'just so' before I can let go of them. Yes, I am that person who cannot work in a messy room, and lines up items in a certain way ;)So why the hell did I choose tapestry as my medium? Tapestry is a perfectionist's nightmare. When I started, I was told that 'you have to be doing tapestry for at least...
---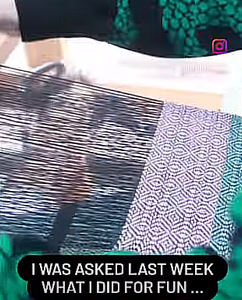 I was asked last week what I did for fun …And this was my answer :DYeah, if I had my own way, I would be handweaving and tapestry weaving 24 hours a day!!How about you - what is your idea of FUN? Comment below! 
---
People think I am super neat, organised and productiveAnd I am - but it's only because I am very routine based, because inside my head it's an absolute mess!If I don't follow my routines and processes, chaos ensues, and nothing gets done!I try to channel my craziness into my artwork, which is why everything around that is neat and ordered.I feel that hand weaving is like an analogy of my life - you have the warp which looks chaotic, but is threaded into order on the loom. And it's through that order that a beautiful pattern appears. Without order, there...