I hope you enjoy the progress of my latest finished tapestry!
---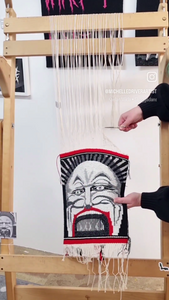 Woohoo, excited to have cut this one off the loom!That same day, I warped up my loom for the next one ... stay tuned!
---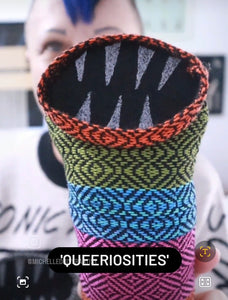 Next in line for 'this idea is either dumb or genius': I present to you: "Queeriosities" 🌈!OK, so I had this fabric that I had woven, and I wanted to have another go making a sculpture, after the lols of the giant scrunchie ;)So what the hell are they? They are representations of me! Queer, weird, neurodiverse, misfit, flamboyant, and pretty silly. But they are also you! Each piece stands tall like a totem pole, representing the strength and resilience of the LGBTQ+ community, allies, and all my fellow weirdos and misfits 🗿🌈Now I just have to figure out how...
---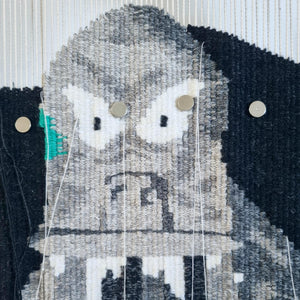 Well, hello there Bertha! It's been a while since I've worked on this tapestry … winter is a busy time, with Bowerbird, restocking my suppliers, and generally being a great time of year for lovely scarves! :D But now I'm back to balancing my tapestry with my handweaving, and this long weekend has been all about swapping between them, as well as some candle making! In fact, the theme of June for me is BALANCE … how about you, are you good at balance?
---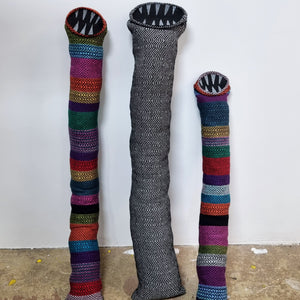 Here they are - I brought them into the gallery on the weekend, and the general consensus was to lean them against the wall!Also, everyone who entered my studio laughed at them … so I consider that a WIN!We have a group exhibition called 'The Haunting: 5 Years of Collective Haunt' - I'd love to see you there, the exhibition is on until 15 July :)Bringing together studio artists from Collective Haunt, as well as some of our friends, it is a great exhibition, intended as a one-stop-shop for all your art shopping needs :DYou'll find my Queeriosities for sale there,...